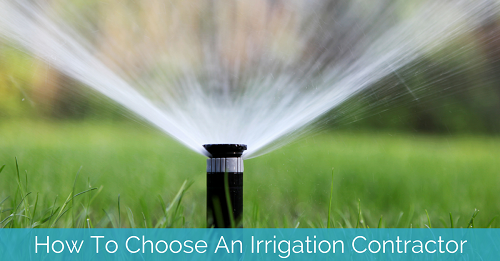 The process of choosing an irrigation contractor is an important step to a great looking and healthy lawn. The best irrigation contractor will properly install a reliable irrigation system that will water your lawn properly and utilize your water economically.
Here are several factors to consider to help you find the right contractor.
Invest Wisely
A professional irrigation systems will make your life easier and beautify your landscape. The irrigation system will make it possible for you to have flourishing plants all year round.
You should have the system designed and installed by a professional to achieve the best out of your investment. The designer should take all the needs of your landscape into consideration when designing the system.
The right irrigation contractor will design and install the best quality system. He is also responsible for ensuring genuine parts are fitted in your system so that it will work efficiently. A quality automatic sprinkler system should serve you for a long time so that you can realize value for your money.
What to Expect
A well-organized irrigation contractor will always provide you with all details you need to make the right choice of an irrigation system.
First, the contractor will visit your property and view the soil samples so that he can recommend the right system. Other factors he will take into consideration include water pressure, sources of water available and the planting materials.
After the first meeting, the contractor will proceed and provide you with an estimate. The formal estimate should be thorough and detail all products required and the total price you will pay for the entire installation services. He should explain all the specifics to you so that you will know the cost of materials and labor.
When the job is done, the contractor should remove all debris from your lawn and explain to you on how to maintain the automatic sprinkler.
Questions to Ask
What are some of the products required during the installation and why?
The professionals should explain all the materials used and the reason why they are the best choice for your lawn.
Does he offer after-sales services
The contractor should be willing to provide after sales services such as winterization and spring start up.
Is there a warranty?
All systems should come with a warranty. The warranty can vary on some components, but labor and most parts should be offered a one year warranty.
Can the contractor provide customer references?
The right contractor should provide you with a name and contact of a recently satisfied customer for you to confirm the quality of their work.
Words of Advice
You should be careful of bidders who are willing to offer you services at rates less than the market price.
Most low bidders are not fully licensed to provide the services. They may as well use cost cutting techniques which will jeopardize the working of your irrigation system. Check and ensure the contractor is fully insured and licensed.
Watch out for:
The omission of back flow preventers which are required by local regulations: They play a great role in protecting your clean water supply.
The sprinklers should not be placed too far apart. They may restrict other areas from receiving enough water. Lack of enough water in certain regions can lead to brown spots in your garden.
Using sprinkles with different application rates. It is not recommended because they can lead to over watering other parts which result in wastage of water.
Failure to safeguarding electrical components. The electrical components should be housed in special watertight connectors to protect electrical elements in your irrigation system.
Confidence Counts
Always choose a contractor you can trust. Contact HeadsUpIrrigationSC for reliable sprinkler service and installation. We have been proudly serving the Columbia area for more than 12 years.